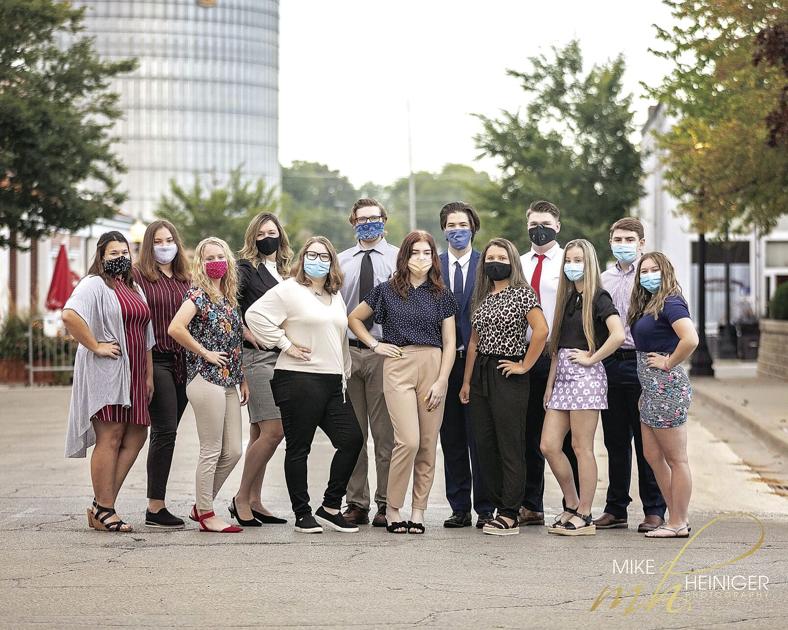 CEO trade show is May 5 | News
MONTICELLO – From pet-centric jewelry to clothes that are "Crazy Cute and Comfy Chic," there will be plenty of variety on hand at this year's Sangamon Valley CEO Trade Show, scheduled for 5:30 to 7:30 pm Wednesday, May 5 at the Piatt County Forest Preserve Park pavilion in Monticello.
Students have been working diligently to form their own businesses as participants in the multi-school CEO program. They have gone from concepts, to pitching their ideas in order to get capital to pursue them, to making and marketing products that will be sold at the trade show.
One effort will even provide food for attendees, as Argenta-Oreana senior Owen Roberts' business is Grillgenta, which will serve food truck-style sandwiches and other menu items.
This is the second year of the Sangamon Valley CEO program, an entrepreneurship program for high school juniors and seniors in the Monticello, Cerro Gordo, Argenta-Oreana, Bement and DeLand-Weldon school districts.
Featured Businesses
Here are the businesses participating in the May 5 trade show, along with their own descriptions of their businesses.
Grillgenta – Owen Roberts
Grillgenta strives to thrill it's customers by serving fresh, never-frozen food prepared just hours before serving giving us the ability to have our cook to order process. We accommodate orders to help anyone with diets, allergens, or simply a picky eater. What started as a tent on the road then a shed beside a bar, is on it's way to be the next hot food truck! Moving around central Illinois to colleges, parks, city celebrations, and company events, along with our weekly route. Food items ranging from Rib-eye Steak Sandwiches and Shrimp Po Boys, Burritos and Fried Rice, and Smash burgers. We look forward to serving your next corporate event!
Natalee's Nutritious Treats – Natalee Wanserski
"Nutritious Diet, Nutritious Life"
Natalee is the owner of Nat's Nutritious Treats. Nat's Nutritious Treats focuses on all natural and locally sourced products that your dog enjoys. We value you and your dog by easing all of the guilt that comes with treat time. With all organic ingredients we hope you enjoy treat time as much as your dog will.
Brick Soap Co. – Sam Dalton
"Smell Great, Look great"
Sam is the owner of Brick Soap Company. Brick Soap was created to bring the customers an all-natural way of cleaning. He offers different variety of different scents, different than what you would find in stores. Each soap is handmade and is gentle on the skin. We Brick Soap Company offer great quality soap for a great price!
Kenzie's Korner – Kenzie Walker
"Bringing great smells, positive energy, and joy to your home !!"
Kenzie is the owner of Kenzie's Korner. Kenzie's Korner is all-natural environmentally friendly soy wax melts. These wax melts are great to get your house smelling great at an affordable price. We cater to homeowners, and anyone looking to get their space smelling good. Something unique about Kenzie's Korner is that there is no dye in the soy wax, safe for light-colored carpets and kids.
Joey's Jewelry – Faith Bailey
"Matching with my 'furever' best friend"
Faith is the owner of Joey's Jewelry. Joey's Jewelry was created to form a connection and stronger bond between the dog and the owner. Faith has always loved dogs and her goal is to share her love for dogs with other dog moms. With her love for dogs, with every product she sells, $ 5 will go to Best Friends Animal Society: No-Kill Animal Rescue & Advocacy, to share the love to the dogs in need. She is happy to personalize a variety of handmade stamped necklaces and dog collar tags. Joey's Jewelry is proud to provide jewelry that both you and your pet will love.
Jamisan's Con-mock-tion Concoctions – Jamison Matalonis
Jamisan Matalonis is the Owner and "Shopkeeper" of Jamisan's Con-mock-tion Concoctions. Jamisan's Con-mock-tion Concoctions was built on the philosophy that prop potions for costumes can be affordable and brandless while also maintaining quality that exceeds colored water in a bottle. Our products are hand-crafted with love and care and can give any LARPer's costume a polished, movie-ready look! Even better than that? Our products are also customizable!
Dark Moon Lip Scrubs – Graycie Copsy
Graycie is the owner and founder of Dark Moon Lip Scrubs. Dark Moon was created to provide an all natural, homemade lip scrub. Not only do they offer lip scrubs, with every order there is also an astrology fact sheet. Astrology is a big thing right now, everyone wants to find out about it. Why not pair self care and spirituality together, to make a product everyone can fall in love with.
Ethan Brakke Video Production – Ethan Brakke
My name is Ethan Brakke, I am the owner and creator of Ethan Brakke Videography. I specialize in video options for local businesses and companies so they can reach a wider audience in their social media. The videos audience when they market themselves. In my videos I want to reflect the customers vision to display the business in the best way possible. I also offer drone footage services for any business that would like to make the videos more professional. The commercial and promotional videos I make are great for a website as an overview with information about the business.
Josie's – Josie Nelson
"Crazy Cute and Comfy Chic"
Josie Nelson is the owner of Josie's Boutique. Josie's was created to bring cute, affordable, comfortable clothes to those in need of trendy new fashion. She sells handmade bleach washed shirts with options of fun text for customers to relate to.
CamTProductions – Cameron Thomas
"By enthusiasts, for enthusiasts"
Cameron Thomas is the owner of CamTProductions photography and videography. CamTProductions is a modern styled photographer who specializes in automotive photos. CamTProductions can do anything from products to portraits. We pride ourselves in a fast turn around and an affordable option for enthusiasts.