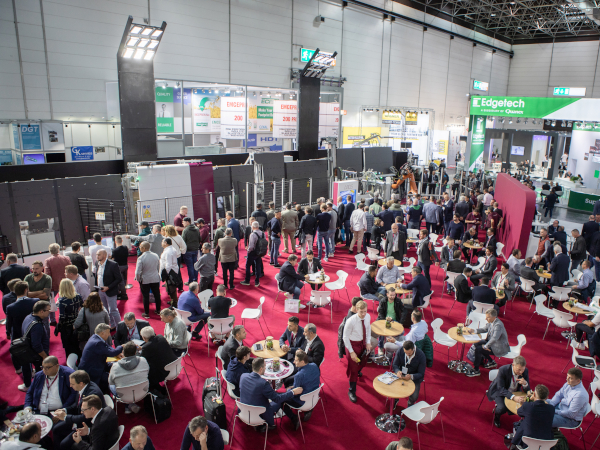 LiSEC – Right in the middle of the international show action
GLASSTEC
LiSEC participated in glasstec, held in Düsseldorf from September 20-23, and used the 1,600 m² of exhibition space to present itself to international trade visitors with an unusual stand concept.
In addition to the live machines for the production, processing and cutting of insulating glass and the corresponding software, the entire exhibition was transmitted to the virtual world via a live stream and supplemented with an updated virtual campus and 3D tours.
This year, the main product areas on which more than 5,000 stand visitors were able to learn about during the four days of the fair in Düsseldorf or via the virtual world were:
Analytic: LiSEC service for successful production management and tool for visualizing and analyzing production data
DSC-A+DSC-T: Horizontal cutting machine for automatic cutting of float glass with tilt function
KSD-A: Currently the fastest vertical crimping and edge grinding machine with integrated LiTEC Slider technology
RHF-A25/25: Gripping system for the automatic positioning of the spacer frames on the glass sheets
LiSEC solutions for the production of laminated glass were presented directly on the exhibition stand via virtual twins or corresponding animations.
The LiSEC service area focused on the topic of training and presented the new program of the LiSEC training department on comfortable massage chairs.
LiSEC subsidiary Schraml also presented itself on the LiSEC stand with the topDRILL RX-25 G8, a vertical drilling and milling center with an eightfold turret drilling head and a waterjet head.
AMERICA BUILT IN GLASS
This year's Glass Build America, which took place October 18-20 in Las Vegas, not only brought highly skilled technical discussions with customers to the 325 sqm LiSEC booth. With more than 4,000 co-exhibitors presenting their solutions to more than 8,000 qualified professional visitors over the days, the concept of the LiSEC show was particularly appreciated and the redesigned stand won the "best-in-show" award. The design concept was implemented in collaboration with cericom, a partner of LiSEC. This was particularly noticeable in the exterior windows of the cabin, which were designed by laser processing.
Customers and interested parties were able to experience the advantages of LiSEC solutions via virtual concepts and visit the premises of the training services of LiSEC and the LiSEC group member GLASTECH in Hausmening via a virtual room.
WANT MORE INFORMATION?
Discover GLASTECH or our training centers virtually on our website www.lisec.com or directly via the following links:
For more information on the appearance of LiSEC at glasstec, please visit show.lisec.com. You are also welcome to visit our virtual campus – campus.lisec.com.
All information on our partner companies is available at www.schraml.com
Where www.cericom.de.