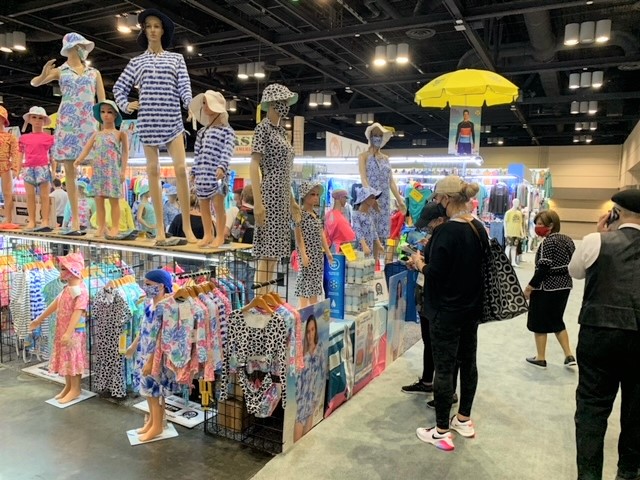 Momentum builds on reboot of the trade show industry
A slew of good news and in-person events recently signaled positive momentum towards a reboot of the U.S. trade show industry that has effectively been put on hold since the spring of last year.
Among the news, it was announced that the business events industry will be represented under a unified voice with the formation of the Alliance of Exhibitions and Conferences (ECA), an advocacy group that will advocate for common interests. American exhibitions and conferences with lawmakers.
This new coalition of eight industry associations will promote the impact of the sector, raise awareness of the industry in general, initiate legislation on behalf of trade events, and work with partners globally as necessary to maintain a favorable operating environment for states- United.
Existing advocacy initiatives, Live together and Exhibitions are synonymous with business, will continue within the framework of the ECA and will continue their respective mission – Go LIVE Together in advocating for federal funding of the COVID-19 recovery and Exhibitions Mean Business in promoting the value of face-to-face and economic impact of exhibitions at local, state and national levels.
Douglas Emslie, Managing Director of Tarsus Group and member of the ECA Board of Directors representing SISO, said of the current positive momentum in the industry:
"The past few weeks have started to see the fruits of our industry's labor over the past year. GO Live Together worked with Informa, Clarion and Tarsus on their fashion events in Orlando to prepare invaluable lobbying assets in terms of a detailed study of the impact of our All Secure measures and a video documentary of these processes in action ",
He added: "Additionally, we have made substantial progress on reopening Las Vegas and are working closely with Senator Cortez Masto on her bill to secure the necessary financial support for our industry."
Herve Sedky, President and CEO of Emerald and a member of the ECA Board of Directors also representing SISO, said of Emerald and the industry's efforts:
"As we are all well aware, 2020 has presented our world with the rise and spread of COVID-19, which continues to present our industry with unprecedented changes. As a result, we were made to challenge ourselves to think outside the box and respond with unprecedented creativity, thought and ingenuity. At Emerald, we will remain firmly committed to the existing advocacy initiatives defined by SISO and Go LIVE Together, and look forward to raising awareness of the U.S. exhibits and conference industry through the new Exhibitions and Conferences (ECA) alliance."
Here are some more positive updates:
Las Vegas Gathering Boundaries Raised
Nevada Gov. Steve Sisolak described Nevada's reopening times, which included collection limits. Starting February 15, capacity will be increased to 100 people or 35% of capacity, whichever is less. Additionally, large assembly plans can be submitted to local health authorities for review. However, any changes approved for large gatherings can only take place after March 1. On March 15, gatherings can reach 250 people or 50% of their capacity, whichever is less. Finally, on May 1, the goal is to transfer authority from states to local governments for the management of mitigation. This is good news for Las Vegas in general and especially for shows like World of Concrete which is slated to open in June. HERE is the governor's press conference.
Presentation of the Senate bill for the events industry
A bipartisan proposal to help the travel and tourism industries has taken a critical first step with US Senate approval. The measure, proposed by U.S. Senator Catherine Cortez Masto (D-Nev.) And Kevin Cramer (RN.D.), prioritizes the devastated hospitality sector, as Congress works through President Biden's $ 1.9 trillion proposed stimulus package.
The amendment was passed as part of the Senate budget resolution, which marks an important step towards passing COVID-19 stimulus legislation, Cortez Masto's office said. It is the assurance that the main legislators of the country will prioritize travel and tourism. The most practical measure of the legislation is that the amendment establishes a deficit neutral reserve fund to support hospitality, conventions, trade shows, entertainment, tourism and travel and their workers.
"Our communities cannot afford to see these industries decimated, and I am happy to have passed this bipartisan amendment to extend support to our ailing hotel sector and provide relief to workers in industries hardest hit by this pandemic," Cortes Masto said in a declaration.
Recently there were fashion shows and a surfing exhibition
Fashion show trio –

Held last week at the Orange County Convention Center in Orlando – a trio of fashion shows typically held in Las Vegas every winter, have collaborated to offer COVID-19 testing onsite to ensure a safe salon experience for thousands of participants and exhibitors. The shows were Offprice Orlando Market from Tarsus Group, MAGIC Pop-up Orlando from Informa Markets and WWIN Orlando Showcase from Clarion Events.

Surf Expo –

Riding the waves of strong demand from exhibitors and retailers for an in-person experience,

Surf fair

kicked off the new year with a live trade show at the Orange County Convention Center in Orlando from Jan.6-8.

While

the overall size of the show was smaller and less than half the size of the 2020 edition due to the impact of COVID-19 and domestic and international travel restrictions, buyer / exhibitor ratios increased by 23% . This drastically improved overall exhibitor satisfaction with exhibitor promoter net scores increasing 63% from the 2020 event. HERE is a SISO sponsored case study on the Surf Expo event.
To look forward
A Wall Street Journal opinion piece was released on February 19, indicating that herd immunity could be achieved by April with the current number of people who have already had COVID-19 and vaccinations underway.
Dr Marty Makary, professor at Johns Hopkins University, wrote the article, which read in part: "There is reason to believe that the country is rushing towards an extremely low level of infection. As more and more people have been infected, most of whom have mild or no symptoms, fewer Americans remain infected. At the current trajectory, I expect Covid to be mostly gone by April, allowing Americans to return to normal lives."
We all hope it turns out that way.
Sedky said of the future:
"Looking forward to the year ahead, we remain hopeful that the vaccination rollout will mitigate the spread of the COVID-19 pandemic and allow more in-person events to be exchanged in the second half of 2021. We have got a first glimpse of what the industry recovery looks like at Emerald, and we're set to return as the pandemic recedes and the shows start happening again. The safe exchange of two in-person events over the past few months – International Gift Expo of the Smokies and Surf Expo – has clearly shown the vital role that face-to-face events play in building connections, commerce and growth while offering real optimism for the future of our industry. Going forward, our goal at Emerald is to identify ways to better serve our customers, our communities and the industries they serve by producing secure and security-focused live events and 365-day channels."
here is FIVE WAYS (downloadable assets) you can make your voice heard from #GOLiveTogether.
Please use these assets and spread the information about the value of our industry and the need to reopen far and wide.