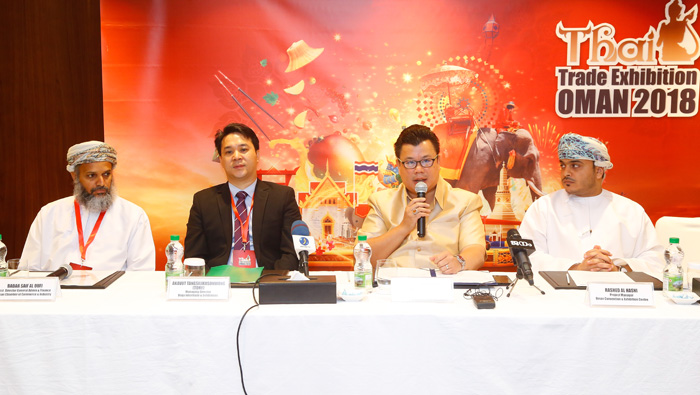 More than 60 Thai companies will attend the trade fair
Muscat: Over 60 leading Thai companies will showcase exciting products and services at the Third Thailand Oman Trade Fair 2018, which will be held at the Oman Convention and Exhibition Center (Hall No. 2) from May 1-5.
The five-day fair is expected to be a unique opportunity for Omani traders and consumers to get a variety of authentic Thai products at a bargain price.
Omani visitors can expect a variety of quality products such as beauty, spa and wellness products; fashion and accessories, lifestyle and home products, authentic Thai food and drink, and services ranging from construction and franchises to medical services and hospitals.
The premier trade fair will also provide major buyers in the Sultanate and the entire Middle East region with a unique opportunity to meet Thai exporters, wholesalers, small and medium enterprises (SMEs) and entrepreneurs.
With the aim of strengthening exchanges between Thai exporters and Omani traders, the Oman Chamber of Commerce and Industry (OCCI) will organize a business-to-business (B2B) meeting between 9:30 a.m. and noon on May 2 in room premises. 75 Thai traders are expected to attend the B2B meeting.
In fact, OCCI and the Public Authority for the Development of Small and Medium Enterprises (Riyada) will invite Omani companies to participate in the business meeting, which is expected to attract the attention of the local business community.
Organized by Vega Intertrade & Exhibition, Thai Trade Exhibition Oman 2018 is supported by Oman International Exhibition Center (OIEC), Tourism Authority of Thailand, Royal Thai Embassy, ​​Vejthani Hospital, Hospital Bangpakok 9, the Thai Muslim Trade Association and Thai Airways.
The last two Thai trade fairs held in Oman have been a great success with trade revenues and visitor numbers far exceeding the expectations of its organizers. The trade show is also honored by Oman's thriving business community while emphasizing the importance of the recently opened Oman Mega Exhibition and Convention Center as the region's main trade show destination.
In addition, visitors to the show can enjoy a unique shopping experience at great prices; they may also have a chance to win a round trip to Thailand with free hotel accommodation.
"This year is another step towards our long-term goal by creating a stronger cooperation between businessmen from Oman, the Middle East and Thailand," said Akavut Tangsilikusonwong, Managing Director of Vega Intertrade & Exhibitions .
"With our experience and expertise in organizing trade fairs and exhibitions in the Middle East, we are sure that buyers and visitors will appreciate our Thai products and services and establish a successful relationship with Thai companies from various industries." Tangsilikusonwong added.
"Last year we made 100 pieces of our organic rice soap, including a large batch of our shower gel, lotions, etc., and they all sold out. We have found that our organic, healthy and natural products (with a sense of Thainess) are very well received. As a marketing consultant, I see the Middle East as a remarkable market, "said Nutchomthorn Sabaibang, marketing consultant for iConnect International.
"We are confident that we can be successful after attending the Thai Trade Exhibition Oman 2016, which was our first event in the Middle East, where we received great feedback from customers. It was way beyond our expectations. Customers from the Middle East were interested in our products as many of them have already been to Thailand. They are familiar with Thai herbs and products, "said Akkharaphat Tangtrongchitr, Managing Director of Jisprapat Limited Partnership, a company specializing in the production of health products such as inhalers, balms, massage oils and oil. yellow.
"We are currently in discussions with local distributors there. I think Thai trade shows are great because customers in the Middle East who are fond of Thai products will know that Thai brands are happy to knock on their doors, "added Tangtrongchitr.
"It was very impressive to exhibit our products at the Thai Oman Trade Show last year. We received good feedback from day one. We bought 80 kilograms of our products and they all sold out in the first three days. We have agreed to ship our products to Iran and to a large mall in Oman. Joining this event not only helped to increase our distribution channels, but also broadened our vision and experience, "noted Supaporn Klinhom of SPC Group, a company specializing in the export of dried fruits.
Registration is free for all buyers and visitors, in addition to free parking at the exhibition venue.