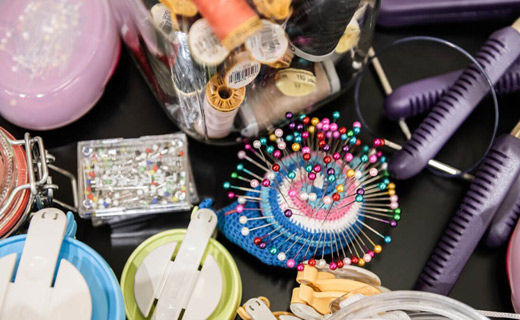 The h + h show arrives in North America
New Chicago Textile Craft Show in June 2022
+++ First international offspring of the world's leading trade fair h + h cologne +++ Uniting the craft industries in North America +++
Excitement is building for the first edition of h + h americas to be held June 22-24, 2022 in Chicago. The event is Koelnmesse's response to the growing demand for a strong and unified national trade fair for the craft industry in North America. As a result of the pandemic, crafts have grown in popularity in the United States and are seeing double-digit growth rates. Nearly 30 million Americans crochet, knit, sew, quilt or embroider – an ideal base for a successful first trade show in North America. h + h cologne is the world's leading industrial event for textile crafts and takes place annually in Cologne, Germany.
By taking the famous h + h brand abroad, Koelnmesse is establishing a premier ordering platform in the United States for North American buyers. The first h + h americas will reflect all product segments of its sister event with main segments in home textiles, upholstery, sewing, knitting, crochet, haberdashery, quilting, embroidery, software d business and marketing solutions. Visitors will be Soft Craft retailers, wholesalers, designers and online traders who will also have virtual access to the show. Koelnmesse Inc. expects exhibitors from North America to be joined by several European companies in this segment. "Our decision to launch h + h americas is part of our strategy to make trade shows more international and more accessible to our clients through online channels. This step will strengthen our Cologne show while meeting the growing demand from the US market, "said Gerald Böse, CEO of Koelnmesse GmbH.
The new h + h americas, taking place next year at the Donald E. Stephens Convention & Conference Center in Rosemont, Illinois, will provide North American trade visitors with an additional ordering platform. The new show is hosted by Koelnmesse's subsidiary, Koelnmesse Inc. in Chicago: "For many years our customers have asked us when h + h is coming to North America because not everyone can make it to Cologne. The Covid situation has accelerated the demand for artisanal products in North America and we believe the time has come to bring the famous h + h brand to the United States, "said Mette Petersen, President and CEO of Koelnmesse Inc .
Petersen continues, "Chicago offers the perfect location for this premier show with easy access for domestic and international travelers and reasonably priced hotels." The local partner of the conference will be the Craft Industry Alliance which targets professionals in the craft industry. Founded in 2015 by Abby Glassenberg and Kristin Link, its mission is to connect, educate, inspire and provide members with industry news for craft professionals.
Abby Glassenberg, Co-Founder and President of Craft Industry Alliance has attended several h + h cologne events and is delighted with this cooperation: "We are delighted to partner with Koelnmesse to bring h + h cologne to the United States. The Cologne trade fair in Germany is the premier craft event. The opportunity to bring this event to North America and work together to create a fresh, inspiring and elevated exhibition experience for buyers and exhibitors is unbeatable. This show will propel the entire industry forward.
Visits: 1418 | leave a comment