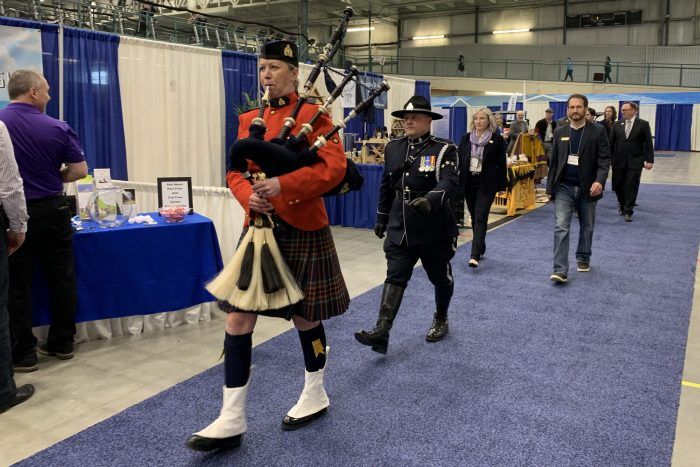 The Trade Show is making a comeback at the Parc
Content of the article
A familiar fixture returned to Sherwood Park over the weekend as the 37th annual Great Canadian Trade Fair took over Millennium Place.
Content of the article
Hosted by the Sherwood Park and District Chamber of Commerce, its first major event since spring 2019 featured 150 exhibitors.
Local elected officials, along with representatives from the Fort Saskatchewan, Bruderheim and Gibbons councils, and dignitaries from the two local school districts, were on hand to celebrate the grand opening on Friday, April 8 just after noon.
Local Chamber Speaker Darryl Popik noted that the past two years have been difficult for the Chamber, its members and the business community as a whole, but there are reasons for optimism.
"There are many positive signals that point to success in the future. The economy is recovering, the Chamber has restarted many of our programs and events that were canceled due to COVID – The Great Canadian Trade Fair is a perfect example of an event we host for our members and the community" , said Popik.
The Chamber will launch a new initiative to offer more support to local businesses: an entrepreneurship centre. This will provide office space, mentorship and networking opportunities for 10 start-ups each year going forward.
"In today's business environment, I can't think of a better way for us to utilize this space in the Chamber building. I would like to thank our entire board of directors for the vision of the entrepreneur centre. We have a lot to look forward to as business owners here in Strathcona County," the House Speaker said.
Attend alongside Ward 3 Coun. Lorne Harvey and Ward 5 Council. Aaron Nelson, Ward 1 Council. Robert Parks, who was also serving as Deputy Mayor, thanked the House for all the advocacy work it does to provide opportunities for local businesses .
Content of the article
"This show is a perfect example. I know your businesses as well as our business community have had a tumultuous past 24 months and it is refreshing to see events such as this major trade show return after having to take a break due to the pandemic," Parks said. . "I look forward to our community reconnecting through this event."
The two local MPs Nate Glubish and Jordan Walker were also present.
"We continue to have one of the best chambers in the province, bar none," Glubish said. "I look forward to being here to reinforce this message of support for the local. We want you to know that your provincial government is on your side. We're here to work with you, to listen to you, and to help with whatever we can do to help you reach your full potential. There is so much potential in Strathcona County. I'm so excited about the growth we're seeing and hope to share that excitement.
Sherwood Park-Fort Saskatchewan MPP Garnett Genuis said it was great to finally be able to come together in person to support local businesses.
"It's great that we are able to recognize the great work of our business community," said the local MP. "The last few years have obviously been tough, but hopefully we continue to build on that. I have so much faith in the resilience of our community and businesses here. Our best days are definitely ahead of us for our community.
Ken Kobly, president of the Alberta Chamber of Commerce, was also thanked for his contribution to the business community across the province, as he is expected to retire this year.
Next up for the local chamber is its annual golf tournament on June 8.
twitter.com/LindsayDMorey